Get In Contact
Sonoma County has a wide-reaching emergency help network. Click here for information on food, shelter, health services, transportation and more in Sonoma County, or call 211 for immediate help.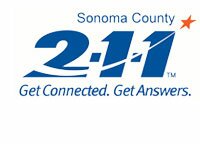 To contact COTS' Petaluma Kitchen, which provides free meals and a free Food Box delivery program, please call 707.778.6380.
If you are interested in other COTS services, you can look through this website, and/or call 707.765.6530. We usually have waiting lists, so please follow any instructions you may receive so that we can help you as soon as possible.
If you are not presently in this region, we encourage you to seek resources where you are now. COTS is located in Sonoma County, California, which has a very high cost of living. Your resources probably will go further in your present location.
Petaluma Kitchen
Daily meals and weekly emergency food deliveries are critical to many low income families, seniors and individuals in our community. In this community kitchen, located at 900 Hopper Street in Petaluma, COTS provides a nutritious meal each day to homeless and at-risk families and individuals. The volunteers and staff at the Kitchen serve more than 125,000 meals per year.
Free meals are served daily.
Petaluma Kitchen hours are 7 a.m. to 2 p.m., seven days a week.
The Petaluma Kitchen can be reached at 707.778.6380.